Writing Exercise by Dorianne Laux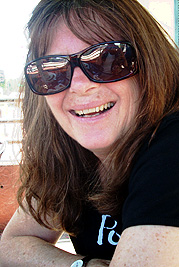 Random Phrases
I like exercises that simply utilize random words and phrases, like these:
Load, years, wreckage, Christ, rare, key, minutes, blow, bastard, beauty, translation
And the phrase: "Why did we come here ..."
Here's another random list:
cherry, bird cry, dread, lip, flutes, tap, thrash, doors, bathe
Also, include a word of time: epoch, season, year
The poem I wrote from this list is called The Cherry Tree.
The Cherry Tree




The birds are at the cherries, crying
and thrashing, tapping at the tough skins,
bathing in the juice. Their beaks are bright
with wine in this epoch, this season, this year
of the cherry, seeds that traveled by boat
from Asia Minor, rolling in the hull, cold
against the Black Sea, then poured by handfuls
into the soil at Plymouth.

William Bartram discovered "bird cherry,"
Prunus padus, growing near a door
in Augusta, Georgia in 1773. In 1847,
Henderson Lewelling brought to Oregon
in a covered wagon a few cherry trees.
Then came the Sand Cherry,
The Dwarf Rocky Mountain Cherry.

The common wild black cherry
of Eastern North America kills children
but not birds. We use German rootstocks
for cherry trees: "Mazzard," "Gisela."
Sweet cherries have been named
"Napoleon" "Ranier" "Lambert" and "Stella."
The Black "Tartarian Cherry" available
only by mail order or internet catalog.

And then there's the dreaded vat
the maraschino soaks in, a salty soup
of preservatives, fallen leaves and dead rats.
We call the flowering cherry enlaced
around the triple-locked White House
the "Weeping Cherry." Taft's wife
planted them on her knees in 1912
and they do not bear fruit
and the blossoms do not linger.

The birds are fruit-drunk now, trying to fly
out of the sky. Blood on their tongues.
They're zipping from branch to branch
like men trying to fix something
invisible or deranged women cooking up
a story about why they're here, mouths wild
with color, flinging flutes of juice into the air.
Poem reprinted with permission of the author.
---
Using the above Random Phrases , write a poem of fifteen lines or fewer, and submit it for consideration on the APW Forum/Guests' Pages. Email subject line: Random Phrases Poem.
Enjoy!
---
Interview with Dorianne Laux on Willowsprings.
Her Author Profile appears on Poets.org, Academy of American Poets.
Visit Ms. Laux's Facebook Page.
DORIANNE LAUX's fourth book of poems, Facts about the Moon (W.W. Norton, 2007), received the Oregon Book Award. She has also authored Awake (1990), What We Carry (1994) and Smoke (2000), which are all published by BOA Editions. Her titles from Red Dragonfly Press include Superman: The Chapbook (2008) and Dark Charms (2009). Her selected works, In a Room with a Rag in my Hand, have been translated into Arabic by Kalima Press. Her fifth collection, The Book of Men, will be out in February of 2011 from W.W. Norton. She currently teaches at North Carolina State University.
Sponsored Ads