Hitting the Jackpot: Idiom in Poetry
Instructions
Ready to have a cow?
Seeing eye-to-eye, poets, some of them over the hill, often play cat-and-mouse with language, and sometimes we end up eating our words.
Not exactly clichés, idioms allow us to communicate using familiar phrases that signify some common understanding; often times, but not always, idioms are rooted in vegetative, animal, and nature metaphor.
In this exercise, you will have the opportunity to select a familiar idiom and use it literally in your poem.
An idiom is an indiviual pecularity of language, peculiar to a people or district, community or class. The meaning of the entire idiomatic phrase, when taken together, has little to do with the meaning of the words taken one-by-one.
As poets, we often take words one-by-one, slow things down a bit, and cultivate meaning.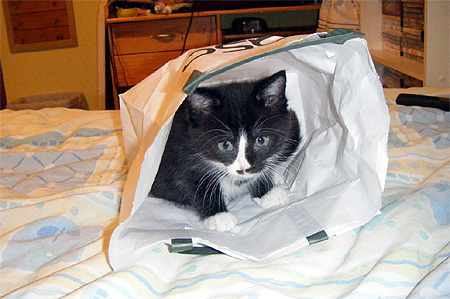 To "let the cat out of the bag," means to reveal a secret. The phrase has little to do with cats and bags, but years ago, it actually did.
Here is a list of frequently-used American idiomatic expressions:
needle in a haystack


seeing eye-to-eye


rat race


raining cats and dogs


have a cow


play cat and mouse


over the hill


miss the boat


mess with someone


hit the jackpot


eat your words


easy as pie


drop in the bucket


chickens come home to roost


wheele and deal


out of the woods


throw in the towel


walk on eggs


down to the wire


Pick one of these idioms that floats your boat and use it in a poem.
Writing exercise: pick ONE idiom from the list above, or select your own, and use it literally in your poem. (Write a poem about a cat in a bag). Extra credit for using simile, alliteration, personification, and metaphor.
Please use an idiomatic expression in a poem of 30 lines or fewer, and submit it for consideration on the APW Forum/Guests' Pages. Email subject line: Idiom Poem.
Enjoy!
Sponsored Ads