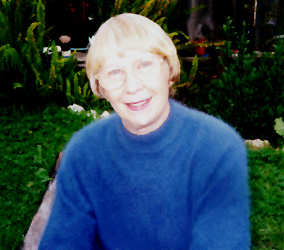 Maggie Morley
Introduction
I am a graduate of the University of California at Berkeley majoring in English: I worked at the Lawrence Berkeley Laboratory as a Librarian and, finally, as a Technical Editor and Writer. I have been retired for about a year and am pursuing a second "vocation" -- writing poetry. I have written a number of "hortatory" works (for delivery from the pulpit), and admit that I fixated at [Velasquez, Mozart, and] Auden. I would like to work with more current forms and singers and develop my own poetic voice.
---
Personal Want Ad

Wanted: a wayward, diffident, illogical spirit,

   part jongleur, part gallowglass,

Who is known to wander old roads--

   the snapping tatters of his motley robe

     fingering the wind;


Who will eat the supper of sins on the casket;

Who will pass an endless night with the eternal virgin;

Who will gaze at a hunchback moon

   and sing of the beauty of the skewed soul;

Who will smile sweetly ... singing just to me.

© Maggie Morley, 1996
Christmas Tree

Armed
I am, with
Credit card, by
Christmas Club,
to meet this month
to see it through, to
make, as they say, Merry.
Rush I must, to hold the pace, I
bravely fly, from place to place, to buy,
to get, to spend, to cash, to carry.
Dazzled I, by lavish toys, for girls and boys,
chic dolls that talk, machines that walk,
and wondrous window dressings.
Wise I am, to metal trees, with guarantees,
synthetic gauds, that smell of chemists' blessings.
Joyful then my Brethren with spirits high,
do celebrate this hallowed date, with Tom and also Jerry.
Don we now a Christmas face, prepare to share,
in one small space, on our Day Off, the joys of Joe and Mary.
Sad I am, that what was once a vital cloth,
of golden warp, of crimson weft, of simple, blessed issue,
Passing here, through many hands, the selfsame strands, now
seems to be an elegant and undistinguished tissue.
Stop I will, to hold a child, to see a star, to wonder -- yes! To wonder!
To remember,
The legacy, the gift of love,
yearned into life,
and left to us,
to hold and pass,
is not gone this December.
© Maggie Morley, 1996
Marthe Mary
My parlor here in Aachen fronts on Heilplatz.
Here, from behind a drape, I gaze unseen
On passersby, and dream of Petersburg,
And wit, and art, and thoughtful, gentle men
And bright-lit ballrooms where what passed for love
Progressed apace as steps will, in a dance.
In Aachen, rags of newsprint whip and dance
Upon the grey, round cobblestones on Heilplatz.
In Aachen, business takes the place of love.
Soft colors -- complex thoughts -- cannot be seen;
The heavy footfalls of fat, dough-faced men
Drown out the blithe mazurkas of Petersburg.
Coachmen, on gilt gigs in Petersburg,
Could make the fine-boned bayards strut and dance.
In Aachen, nags lashed by ham-handed men
Haul the hacks that grumble along Heilplatz.
I dream, as I look upon the leaden scene
Of the warmth and color that I learned to love.
I recall the fires of passion: and though it was not love,
It was the latest fashion found in Petersburg.
In anterooms where we could not be seen,
We'd kiss, we'd sigh . . . continue with the dance.
And, yes, I know, as I know the stones of Heilplatz,
That I must wed an honest, round-eyed man.
My father Hans, a bland and busy man,
As prideful gesture of his filial love
Sent me from the shrouded glooms of Heilplatz
To flower, in my 16th Spring, in Petersburg --
Where all my senses burst, and where I learned to dance.
In Aachen, now, those memories fade unseen.
I will marry any Burgher, sight unseen;
I will stand by the finest of Good Men.
If only I had never learned the dance
Or relished all the hues and tones of love
Delectable and fickle, that thrive in Petersburg --
That cannot live in Aachen on Heilplatz.
My stout antecedents never knew the love,
Of elegant sleek men who waltzed in Petersburg
A chilly scene imprisons us on Heilplatz.
© Maggie Morley, 1996
Money Matters
When I was small, I'd take my evening bath
in the big castiron tub with tiger feet.
Daddy, just home from work,
would often visit me.
With two fingers, he'd fish in his vest pocket,
pull out -- SURPRISE!! -- a copper penny, (maybe two!),
which he'd pitch into the water.
Shrieking with pleasure, I'd spank the suds
and splash joyously till I found
my treasure.
"Shine it up, Mouse," he'd smile.
"Make Abraham Lincoln glow!"
It was a private time.
Four wars later, at a mall that was once an orchard,
in a time when one cent won't buy any joy or thoughts,
I pitch a penny in the Wishing Well.
Shoppers, chubby from burgers and fries,
shrieking at each other over the Muzak,
tuck plastic chargecards into glo-plum codpieces
sealed with velcro ... and, with Elvis pouts,
ignore Abe.
Sullen foxes with inchlong grapejam talons
couldn't grasp something so small.
Overhead, a copper moon glows,
and seems to smile at me.
It is a private time.
© Maggie Morley, 1996